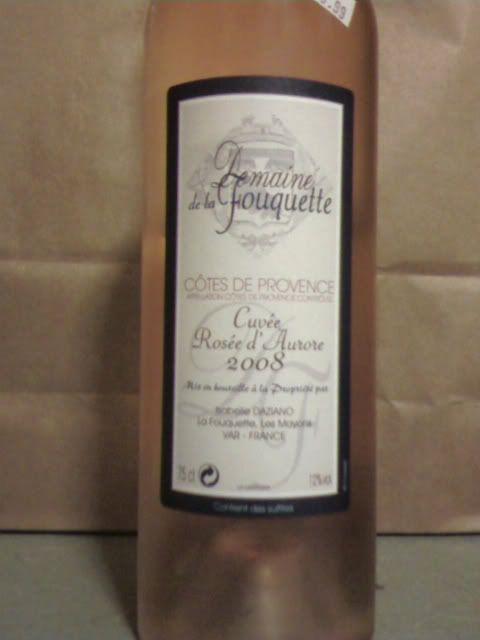 We have a Provencal Rose wine here, not something I usually pick up, but I figured what the hell. I was visiting a friend and we ran into a specialty wine, cheese, and craft beer store. I will go back there again if ever in the area. The selection wasn't huge, but quite good.

I decided on a very good (and crazy expensive so I didn't get much) oak smoked cheddar cheese, and:
Domaine de la Fouquette
Cotes de Provence
Rosee d'Aurore 2008.

Pours very light salmon, if even that. Flowers, minerals, and grass on the nose.

This is a light bodied wine, and on the palate you have a very well put together combination of mineral, some grapefruit, and a liiiiiittle bit of berry. Short and crisp finish with some mild acidity.

This is actually better than I expected. Lighter bodied than I was expecting but exceptionally well done. It's extremely freshing, as a rose often is, but manages to be a damn good wine as well, very damn good. It's a little pricey, but not too bad, and for what you get out of it it's worth it.

For those interested the breakdown is 65% Grenache, 30% Cinsault, and 5% Rolle.



Sorry for the crappy camera phone pic. I seemed to have misplaced the little cord for my regular camera...